Property Leasing
Commercial space

Having regard to this situation and the role served by the airport, opportunities which deserve consideration for development within the airport precinct include:
International Flying College – the airport site is well served by nearby community infrastructure which provides a range of social and recreational outlets for flying school residents and staff. The provision of an International Flying College would be a complementary use of airport land.
Hotel/Convention/Business Centre – as the primary gateway for business/workforce visitors into and through Port Hedland, the availability of a hotel and associated convention and business facilities would offer these typically short-stay visitors with convenient accommodation well connected to Airservices.
Commercial offices– the provision of office accommodation at airports is attractive to businesses with high air-transport usage
Showcase opportunities – as a regional gateway, the airport precinct offers unrivalled opportunities for outdoor signage and display yards showcasing relevant products, services, materials and equipment.
Terminal
A terminal expansion within the reserve to achieve this floor area and improve the functionality of the existing terminal could occur with.
1. Expansion of the south-west end of the existing terminal building possibly allowing for an expanded international offering and housing baggage claim
2. Expansion of the terminal south over the existing apron to take the total terminal depth to approximately 70m in order to achieve linear passenger processing and allow for swing capabilities between domestic and international operations.
3. Expansion of the north eastern end of the building.
The second phase of terminal expansion is based on the ultimate Master Plan demand scenario and sees the terminal expanded to a footprint of 2 approximately 11,000m .
Retail
Beyond the airport boundary the provision of complimentary commercial developments would enhance the airport visitor experience and the eventual airport development opportunity were the full range of commercial uses listed above realized. As this land is external to the airport, the airport would not exert direct influence in planning and development of these areas. However just as it is important to state the value to the airport of adjacent residential, industrial, retail and recreation facilities, it is also relevant to suggest the establishment of other land uses which would continue to develop the diversity of activities and services which would be potentially complimentary to the airports development interests.
In particular development of complimentary airport land uses such as:
Service stations
Convenience stores
Fast food outlets
Outdoor advertising
Other similar passer-by and service oriented uses.
Industrial
Provision for future commercial zones are provided to the north of the terminal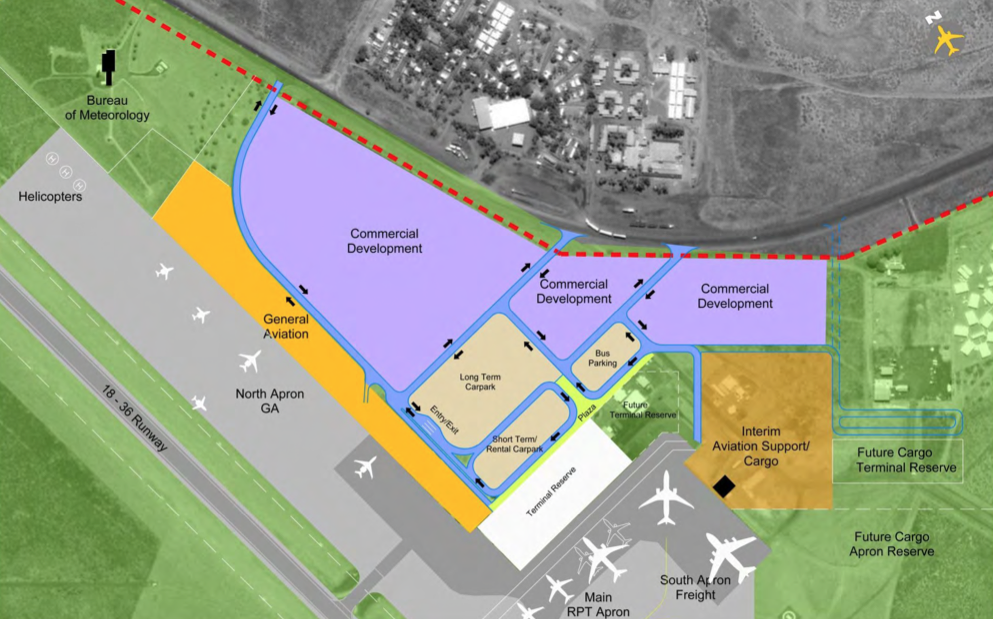 Precincts
Landside planning has been developed in four precincts
Terminal and GA Precinct
The GA area has been retained in its existing location and expanded in the master plan as it is positioned away from the Terminal and RPT apron. There is sufficient landside area to accommodate future small hangar developments for future GA and Corporate aviation operations. Helicopter operations have also been relocated away from the main apron to this area and the landside will need to support this operation.
The area could also house a small GA/Corporate passenger processing facility if required.
Airside Precinct
A new international facility could be developed in the extended terminal where an increase in terminal and apron depth would be most beneficial and in close proximity to the future location for Code E international aircraft parking. There would also be the potential to develop some domestic/international swing capabilities (international departure lounge used for overflow of domestic passengers, when international services are not operating) between the existing terminal and new international component dependent on the coincidence of domestic and international peak hours and internal terminal configuration. The decision to develop the terminal further will be based on passenger numbers, particularly international, and the peak periods for international and domestic passengers coinciding.
Freight Precinct
The development of Precinct 1 will require some reconfiguration of the existing roadways to allow the following;
Reconfigured drop-off kerb and bus parking area adjacent to new terminal pedestrian plaza area
Additional access point off the Great Northern Highway (GNH)
Possibly a second additional access point for a dedicated Freight area if developed.
Highway Precinct
Access to developable portions of Precinct 2 can be provided off the Great Northern Highway (GNH).
Given that there are multiple access points along this stretch of the GNH, access to the Mia Mia TWA and SES depot can be rationalised to reduce the number of access points on to the GNH. Alternatively, should this precinct be utilised by a single owner, a single common access could be developed that would also provide access to the SES and Mia Mia sites
Northern Precinct
Logical use and development of this land is to extend and integrate industrial and transport uses, both existing within the adjacent Wedgefield Industrial Area as well as proposed as part of LandCorp's TDZ (providing specifically for transport laydown, vehicle break down and storage areas).
Airport Industrial Park Precinct
The park offers tenants flexible lease options and development support with unique benefits for fast-tracked logistics, supply chain and heavy transport infrastructure.
Usage
To resolve these conflicts and provide for growth, the purpose of the Master Plan in this area is therefore threefold:

Resolve existing land use conflicts by rationalising land uses, especially in close proximity to the Terminal
Identify new locations for some existing uses and Provide for the expansion of land uses as required.
To achieve these objectives the following recommendations are made regarding land use and development:
Relocate land uses conflicting with RPT activities and terminal expansion
Implement a freight and logistics precinct to accommodate rationalisation and expansion of these uses
Create lots for car hire company operations within close proximity to parking areas and the Terminal
Expand public car parking areas
Rationalise access and traffic flow
Extend the northern and southern GA aprons and accommodate expansion of GA away from RPT activities
Create 'cut off' drains to divert stormwater away from the precinct
Extend drainage lines and install attenuation basins to adequately manage stormwater
Implement landscaping and entry statements to primary access point.